Product Description
Versamatic's 3" (76mm) Air Operated ATEX Double Diaphragm pump features a simple clamped assembly designed for proven performance, delivering high flow rates and excellent solids and slurries handling. This air-operated double-diaphragm (AODD) pump can effectively handle a broad array of fluid types in a wide range of applications.

Additionally, the 3" ATEX-certified AODD pump is suited for use in potentially hazardous environments, including those containing chemicals, oil and gas. Versamatic delivers the safety of ATEX compliance in the pump styles and materials the world demands.

ATEX Diaphragm Pump Safety Benefits

- Fully groundable
- No isolated metallic hardware components
- Electrically conductive materials of construction
- Electrostatic discharges are dissipated in a continual current path throughout the pump to a natural ground"



Model Number Guide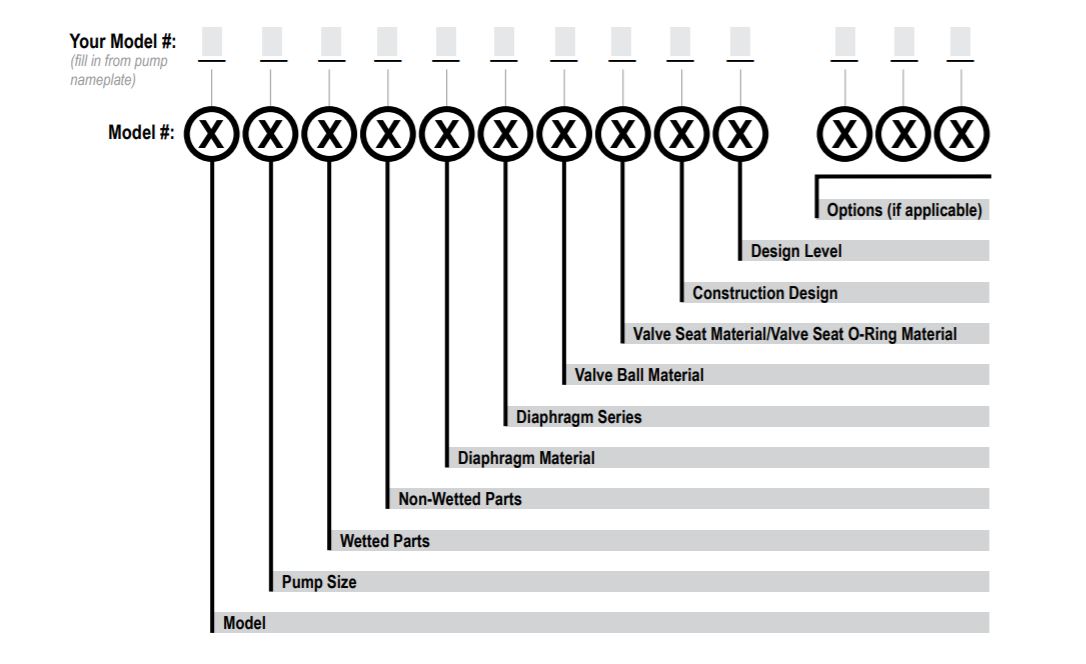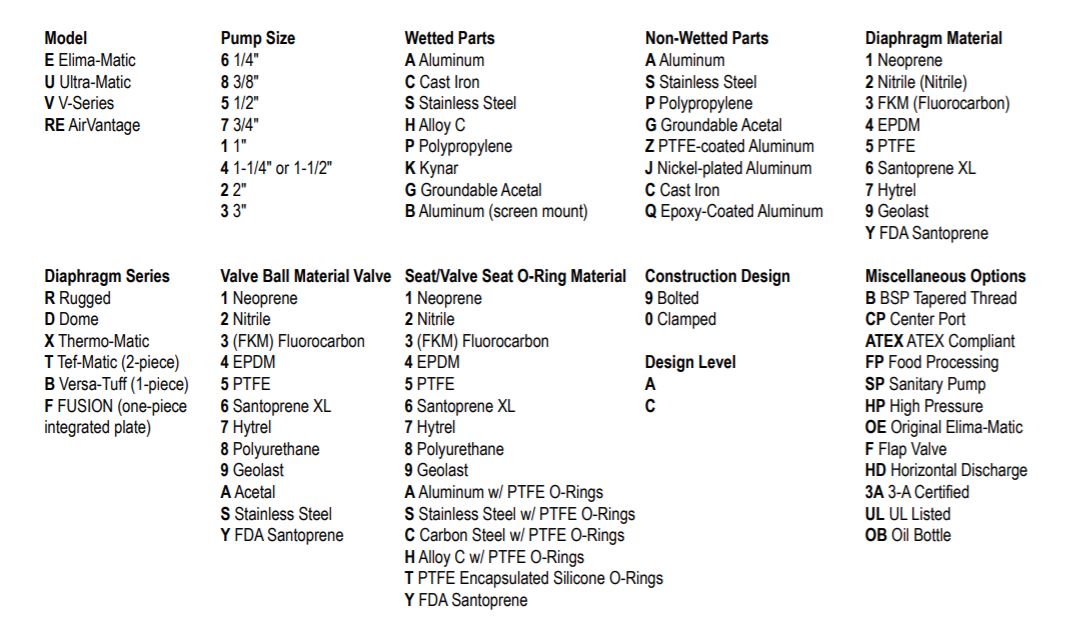 Model
E Elima-Matic
U Ultra-Matic
V V-Series
RE AirVantage
Pump Size
6 1/4"
8 3/8"
5 1/2"
7 3/4"
1 1"
4 1-1/4" or 1-1/2"
2 2"
3 3"



Wetted Parts
A Aluminium
C Cast Iron
S Stainless Steel
H Alloy C
P Polypropylene
K Kynar
G Groundable Acetal
B Aluminium (screen mount)
Non-Wetted Parts
A Aluminium
S Stainless Steel
P Polypropylene
G Groundable Acetal
Z PTFE-coated Aluminium
J Nickel-plated Aluminium
C Cast Iron
Q Epoxy-Coated Aluminium


Diaphragm Material
1 Neoprene
2 Nitrile (Nitrile)
3 FKM (Fluorocarbon)
4 EPDM
5 PTFE
6 Santoprene XL
7 Hytrel
9 Geolast
Y FDA Santoprene
Diaphragm Series
R Rugged
D Dome
X Thermo-Matic
T Tef-Matic (2-piece)
B Versa-Tuff
F FUSION (one-piece integrated plate)
Valve Ball Material Valve
1 Neoprene
2 Nitrile
3 (FKM) Fluorocarbon
4 EPDM
5 PTFE
6 Santoprene XL
7 Hytrel
8 Polyurethane
9 Geolast
A Acetal
S Stainless Steel
Y FDA Santoprene
Seat/Valve Seat O-ring Material
1 Neoprene
2 Nitrile
3 (FKM) Fluorocarbon
4 EPDM
5 PTFE
6 Santoprene XL
7 Hytrel
8 Polyurethane
9 Geolast
A Aluminium w/ PTFE O-Rings
S Stainless Steel w/ PTFE O-Rings
C Carbon Steel w/ PTFE O-Rings
H Alloy C w/ PTFE O-Rings
T PTFE Encapsulated Silicone O-Rings
Y FDA Santoprene
Construction Design
9 Bolted
0 Clamped

Design Level
A
C
Miscellaneous Options
B BSP Tapered Thread
CP Center Port
ATEX ATEX Compliant
FP Food Processing
SP Sanitary Pump
HP High Pressure
OE Original Elima-Matic
F Flap Valve
HD Horizontal Discharge
3A 3-A Certified
UL UL Listed
OB Oil Bottle
Dimension Drawing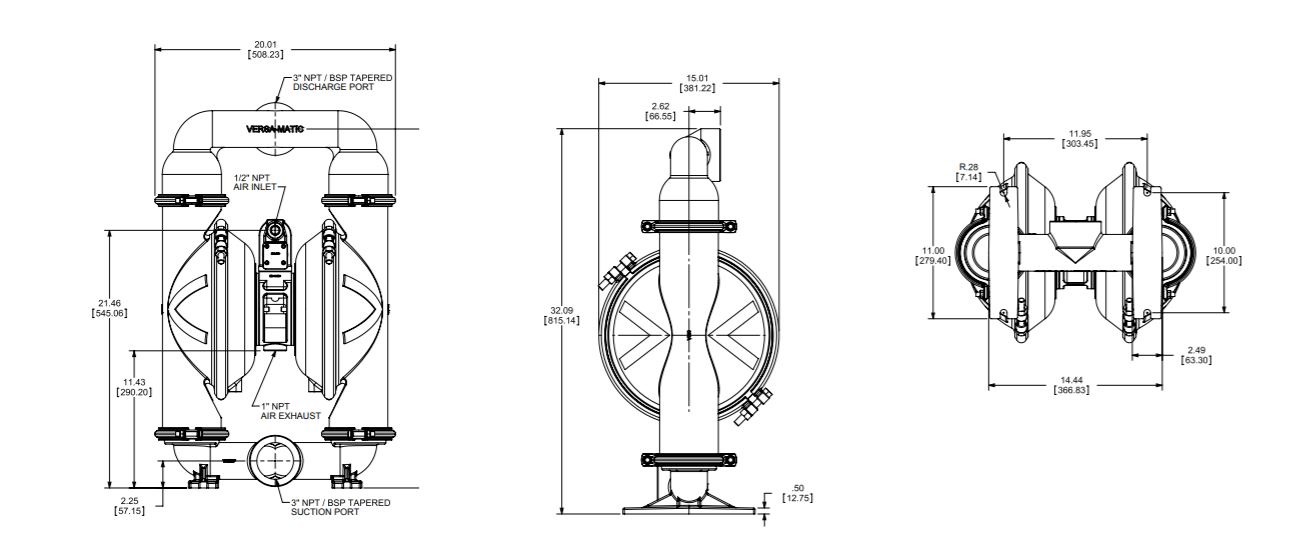 Technical Data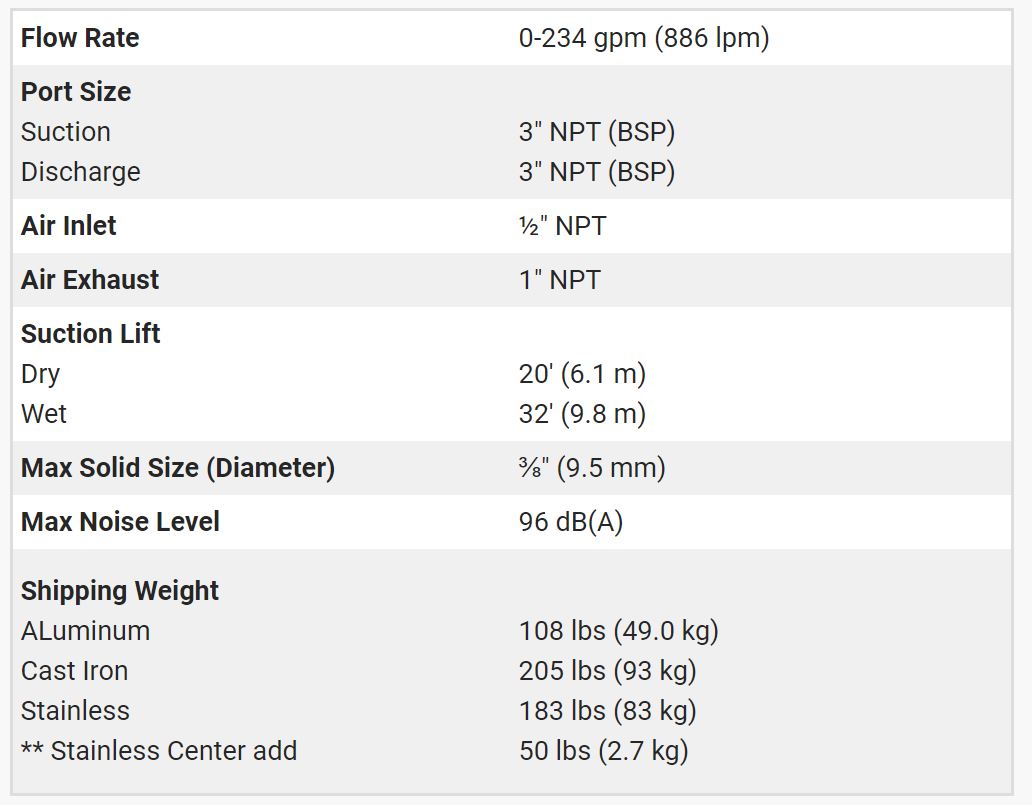 | | |
| --- | --- |
| Flow Rate | 0-234 gpm (886 lpm) |
| Port Size | |
| Suction | 3" NPT (BSP) |
| Discharge | 3" NPT (BSP) |
| Air Inlet | 1/2" NPT |
| Air Exhaust | 1" NPT |
| Suction Lift | |
| Dry | 20' (6.1 m) |
| Wet | 32' (9.8 m) |
| Max Solid Size (Diameter) | 3/8" (9.5 mm) |
| Max Noise Level | 96 dB(A) |
| Shipping Weight | |
| Aluminium | 108 lbs (49.0 kg) |
| Cast Iron | 205 lbs (93 kg) |
| Stainless Steel | 183 lbs (83 kg) |
| **Stainless Center add | 50 lbs (2.7 kg) |
Performance Curve