Product Description
The U Series Oil-Lubricated Rotary Vane Vacuum Pump is cool running, quiet, and highly efficient. Providing vacuum to 29.9 in.Hg (0.4 Torr), the compact, direct-drive, oil-flooded rotary vane vacuum pumps operate on a semi-synthetic oil and offer gas ballast as an option.
The Becker U Series Oil-Flooded Vacuum Pump features a two-step oil separation process that includes an oil/air separator element to increase the efficacy of oil separation to 99.9+%. Not just that, this rotary vane vacuum pump requires only minimal maintenance which at the same time save your operational cost and increase the product life-span.
This Oil-Lubricated Vacuum Pump is widely applicable to industries such as packaging, vacuum chucking, robotics, material handling, degassing and drying.
If you want reliability and durability combined with industry-leading performance, you want a Becker rotary vane vacuum pump.
Models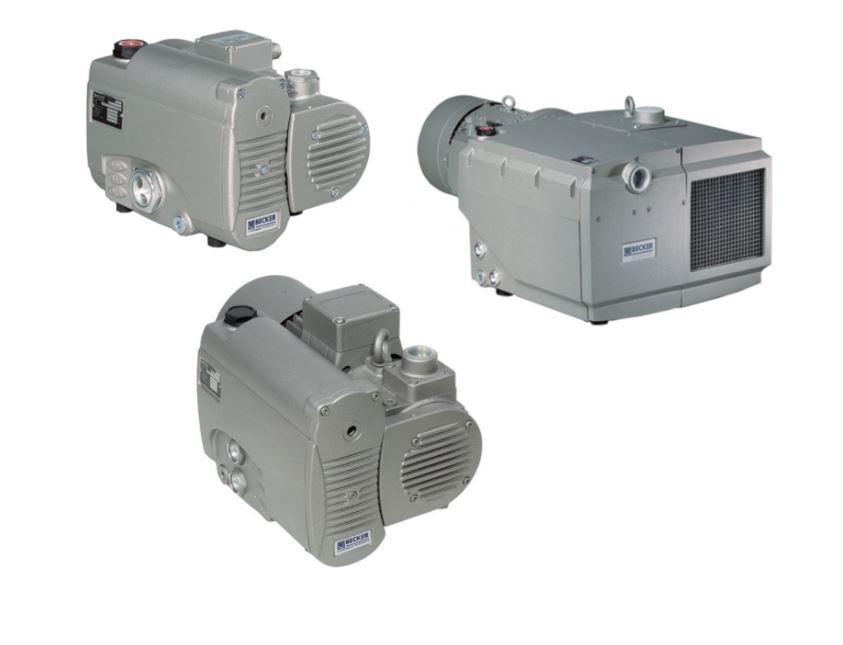 | | | | | | |
| --- | --- | --- | --- | --- | --- |
| Model | Max. Suction Air Rate [m³/h] 50/60Hz | Max. Vacuum [mbar abs.] 50/60Hz | Max.Vacuum [mbar rel.] 50/60Hz | Max. Motor Capacity [kW] 50/60Hz | Weight (kg) |
| U4.20 | 18/21 | <1.0/ <1.5 | <-999/ <-998.5 | 0.55/ 0.66 | 20 |
| U4.40 | 41/48 | 0.5/0.5 | -999.5/ -999.5 | 1.50/ 1.80 | 38 |
| U4.165 SA/K | 162/ 190 | 3.0/ 3.0 | -997/ -997 | 4.00/ 4.80 | 122 |
| U4.165 F/K | 162/ 190 | 0.5/ 0.5 | -999.5/ -999.5 | 4.00/ 4.80 | 122 |
| U4.190 SA/K | 190/ 223 | 3.0/ 3.0 | -997/ -997 | 5.50/ 6.40 | 148 |
| U4.190 F/K | 190/ 223 | 0.5/ 0.5 | -999.5/ -999.5 | 5.50/ 6.40 | 148 |
| | | | | | |
| --- | --- | --- | --- | --- | --- |
| U4.250 SA/K | 244/ 276 | 3.0/ 3.0 | -997/ -997 | 7.80/ 9.30 | 165 |
| U4.250 F/K | 244/ 276 | 0.5/ 0.5 | -999.5/ -999.5 | 7.80/ 9.30 | 165 |
| U4.300 | 300/ 360 | 0.5/ 0.5 | -999.5/ -999.5 | 7.50/ 8.60 | 148.5 |
| U4.400 SA/K | 435/ 508 | 3.0/ 3.0 | -997/ -997 | 11.0/ 12.5 | 397 |
| U4.400 F/K | 435/ 508 | 0.5/ 0.5 | -999.5/ -999.5 | 11.0/ 12.5 | 397 |
| U4.630 SA/K | 624/ 732 | 3.0/ 3.0 | -997.5/ -997.5 | 15.0/ 18.5 | 545 |
| | | | | | |
| --- | --- | --- | --- | --- | --- |
| U4.630 F/K | 624/ 732 | 0.5/ 0.5 | -999.5/ -999.5 | 15.0/ 18.5 | 545 |