Product Description
Offering a robust leak-free bolted design, Versamatic's 2" (51mm) bolted metal air-operated double-diaphragm (AODD) pump is engineered to safely seal when pumping aggressive chemicals. The 2 inches AODD pump offers an ideal combination of flow, size and portability as compared to other pump models, with a maximum flow rate of 163 gpm (617 lpm). As an ATEX diaphragm pump, it meets compliance requirements for use in potentially hazardous environments, including mining.

This 2 inches AODD pump is available in the following materials:

- Aluminum
- Stainless Steel
- Cast Iron
- Alloy C

ATEX stands for atmospheres explosibles and is an acronym for the standard set by the European Parliament & Council of the European Union. It's recognized throughout the European community as the safety standard for equipment used in potentially explosive environments.

ATEX Pumps—Conditions for Safe Use

ATEX-compliant pumps are suitable for use in explosive atmospheres when the equipment is properly grounded in accordance with local electrical codes.
Conductive polypropylene, conductive acetal or conductive polyvinylidene fluoride (PVDF) pumps are not to be installed in applications where the pumps may be subjected to oil, greases and hydraulic liquids.
When operating pumps equipped with non-conductive diaphragms that exceed the maximum permissible projected area, the following methods must be applied:
Equipment is always used to transfer electrically conductive fluids
Explosive environment is prevented from entering the internal portions of the pump (i.e, dry running)
Versamatic delivers the safety of ATEX compliance in the pump styles and materials the world demands."



Model Number Guide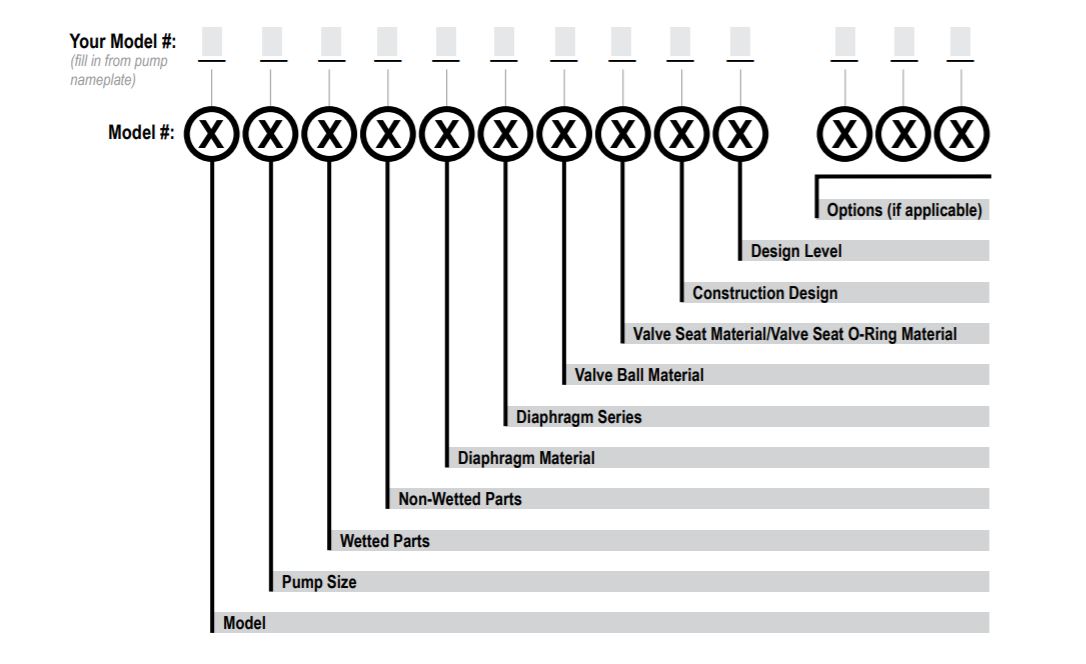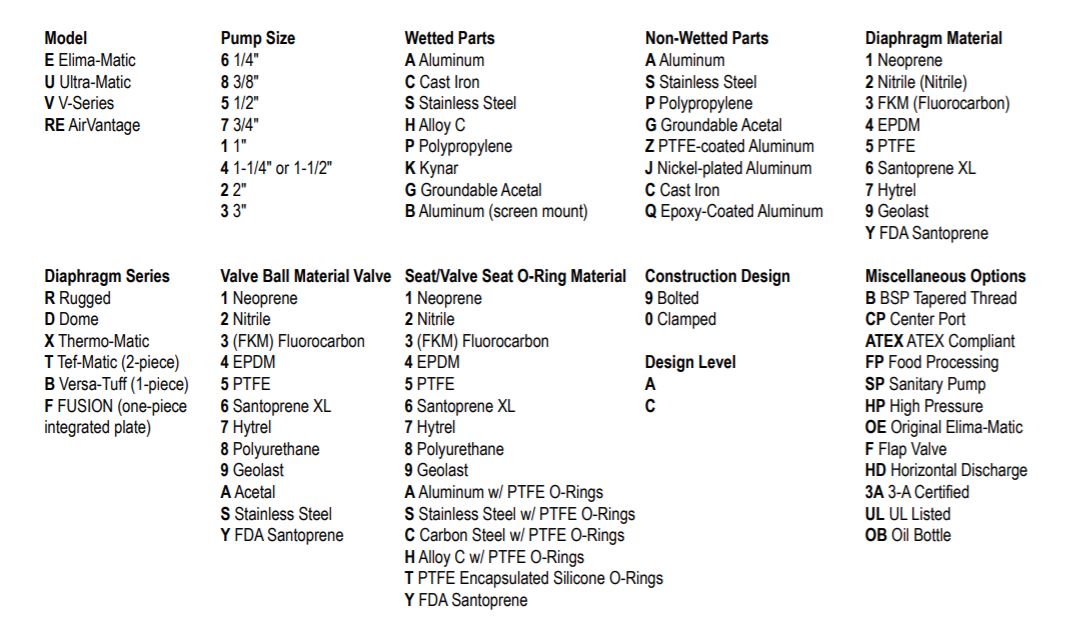 Model
E Elima-Matic
U Ultra-Matic
V V-Series
RE AirVantage
Pump Size
6 1/4"
8 3/8"
5 1/2"
7 3/4"
1 1"
4 1-1/4" or 1-1/2"
2 2"
3 3"



Wetted Parts
A Aluminium
C Cast Iron
S Stainless Steel
H Alloy C
P Polypropylene
K Kynar
G Groundable Acetal
B Aluminium (screen mount)
Non-Wetted Parts
A Aluminium
S Stainless Steel
P Polypropylene
G Groundable Acetal
Z PTFE-coated Aluminium
J Nickel-plated Aluminium
C Cast Iron
Q Epoxy-Coated Aluminium


Diaphragm Material
1 Neoprene
2 Nitrile (Nitrile)
3 FKM (Fluorocarbon)
4 EPDM
5 PTFE
6 Santoprene XL
7 Hytrel
9 Geolast
Y FDA Santoprene
Diaphragm Series
R Rugged
D Dome
X Thermo-Matic
T Tef-Matic (2-piece)
B Versa-Tuff
F FUSION (one-piece integrated plate)
Valve Ball Material Valve
1 Neoprene
2 Nitrile
3 (FKM) Fluorocarbon
4 EPDM
5 PTFE
6 Santoprene XL
7 Hytrel
8 Polyurethane
9 Geolast
A Acetal
S Stainless Steel
Y FDA Santoprene
Seat/Valve Seat O-ring Material
1 Neoprene
2 Nitrile
3 (FKM) Fluorocarbon
4 EPDM
5 PTFE
6 Santoprene XL
7 Hytrel
8 Polyurethane
9 Geolast
A Aluminium w/ PTFE O-Rings
S Stainless Steel w/ PTFE O-Rings
C Carbon Steel w/ PTFE O-Rings
H Alloy C w/ PTFE O-Rings
T PTFE Encapsulated Silicone O-Rings
Y FDA Santoprene
Construction Design
9 Bolted
0 Clamped

Design Level
A
C
Miscellaneous Options
B BSP Tapered Thread
CP Center Port
ATEX ATEX Compliant
FP Food Processing
SP Sanitary Pump
HP High Pressure
OE Original Elima-Matic
F Flap Valve
HD Horizontal Discharge
3A 3-A Certified
UL UL Listed
OB Oil Bottle
Dimension Drawing
Bolted Aluminum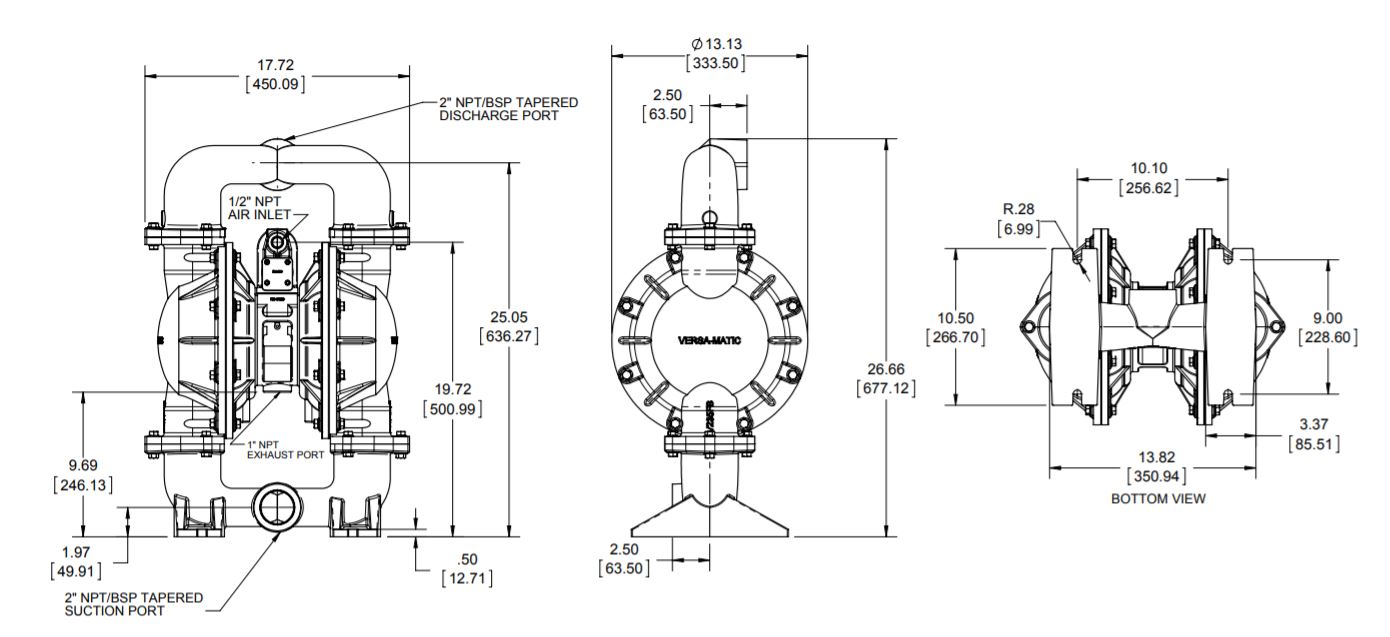 Bolted Stainless Steel/ Alloy C/ Cast Iron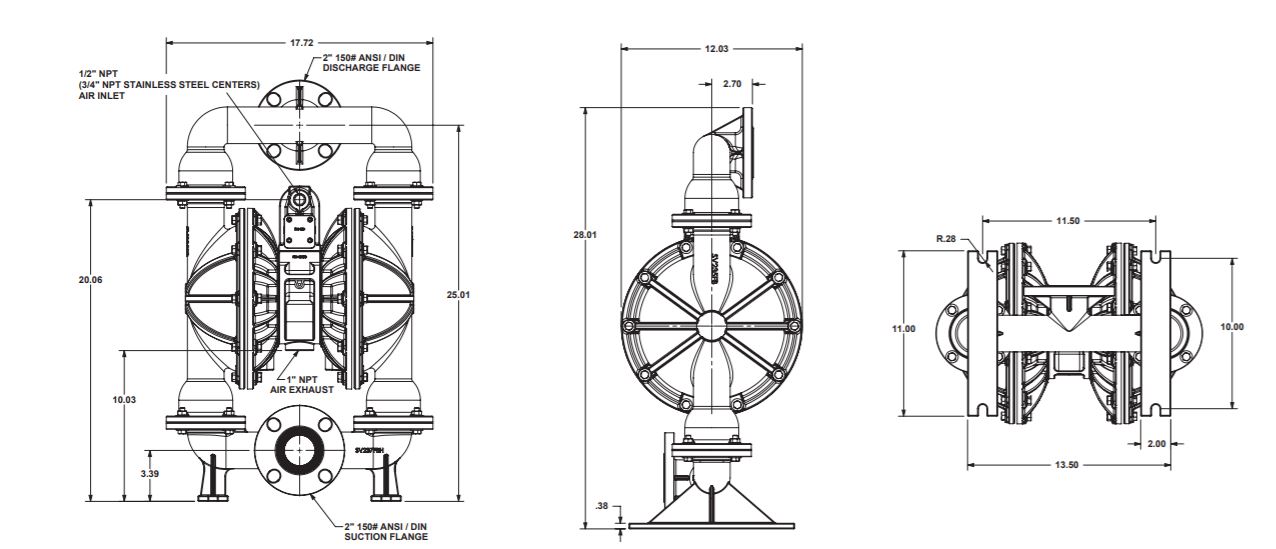 Technical Data
Bolted Aluminum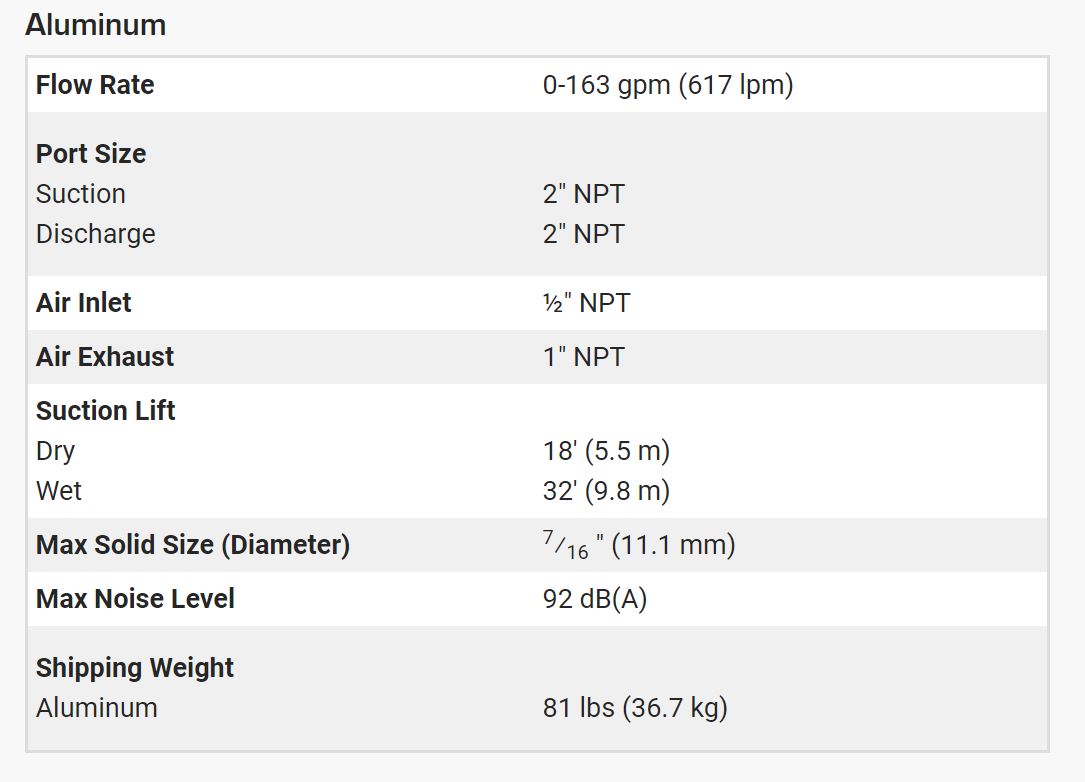 | | |
| --- | --- |
| Flow Rate | 0-163 gpm (617 lpm) |
| Port Size | |
| Suction | 2" NPT |
| Discharge | 2" NPT |
| Air Inlet | 1/2" NPT |
| Air Exhaust | 1" NPT |
| Suction Lift | |
| Dry | 18' (5.5 m) |
| Wet | 32' (9.8 m) |
| Max Solid Size (Diameter) | 7/16" (11.1 mm) |
| Max Noise Level | 92 dB(A) |
| Shipping Weight | |
| Aluminium | 81 lbs (36.7 kg) |
Bolted Stainless Steel/ Alloy C/ Cast Iron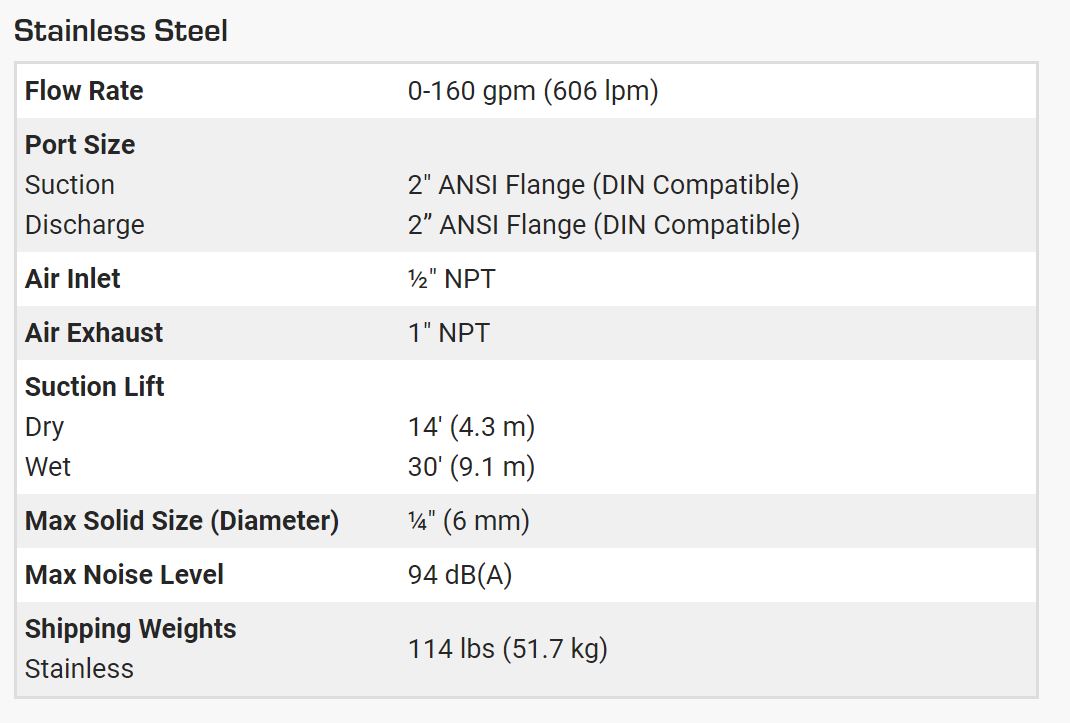 | | |
| --- | --- |
| Flow Rate | 0-160 gpm (606 lpm) |
| Port Size | |
| Suction | 2" ANSI Flange (DIN Compatible) |
| Discharge | 2" ANSI Flange (DIN Compatible) |
| Air Inlet | 1/2" NPT |
| Air Exhaust | 1" NPT |
| Suction Lift | |
| Dry | 14' (4.3 m) |
| Wet | 30' (9.1 m) |
| Max Solid Size (Diameter) | 1/4" (6 mm) |
| Max Noise Level | 94 dB(A) |
| Shipping Weights | |
| Stainless | 114 lbs (51.7 kg) |
Performance Curve
Bolted Aluminum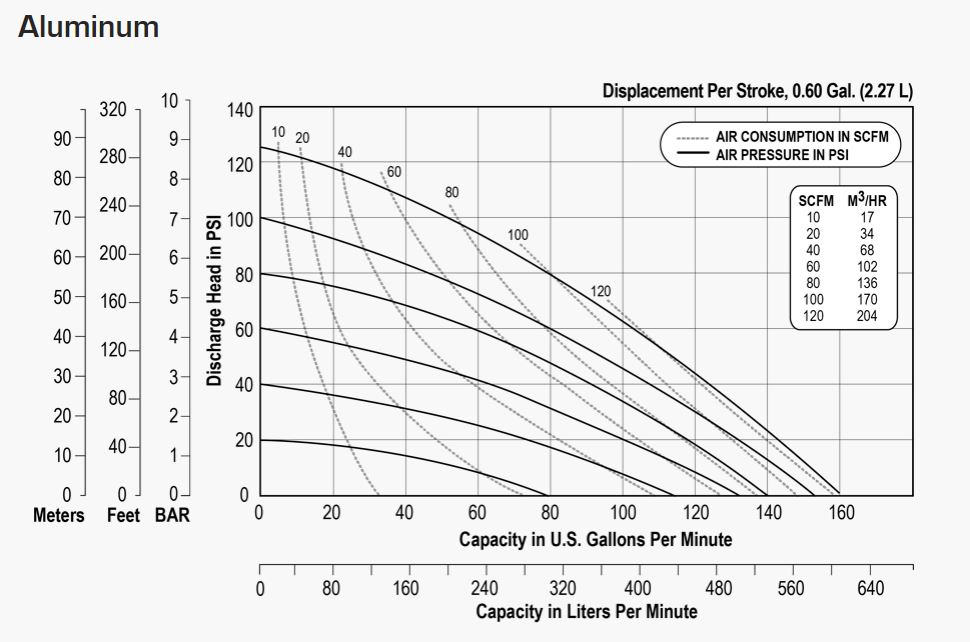 Bolted Stainless Steel/ Alloy C/ Cast Iron