Product Descriptions
For decades, this Versamatic 2 inches Clamped Metal Air Operated Double Diaphragm Pump offers a simple clamped design, making pumping easy. With over a million installed globally, the trusted design of the Versamatic 2" clamped metal ATEX pump features a maximum flow rate of 185 gpm (700 lpm). This ATEX-compliant air-operated double-diaphragm (AODD) pump is suitable for use in potentially hazardous environments when the equipment is properly grounded. This pump is dimensionally interchangeable with Wilden 8 Clamped Series.

ATEX Diaphragm Pump Safety Benefits

- Fully ground-able
- No isolated metallic hardware components
- Electrically conductive materials of construction
- Electrostatic discharges are dissipated in a continual current path throughout the pump to a natural ground (translation: groundable)"


Model Number Guide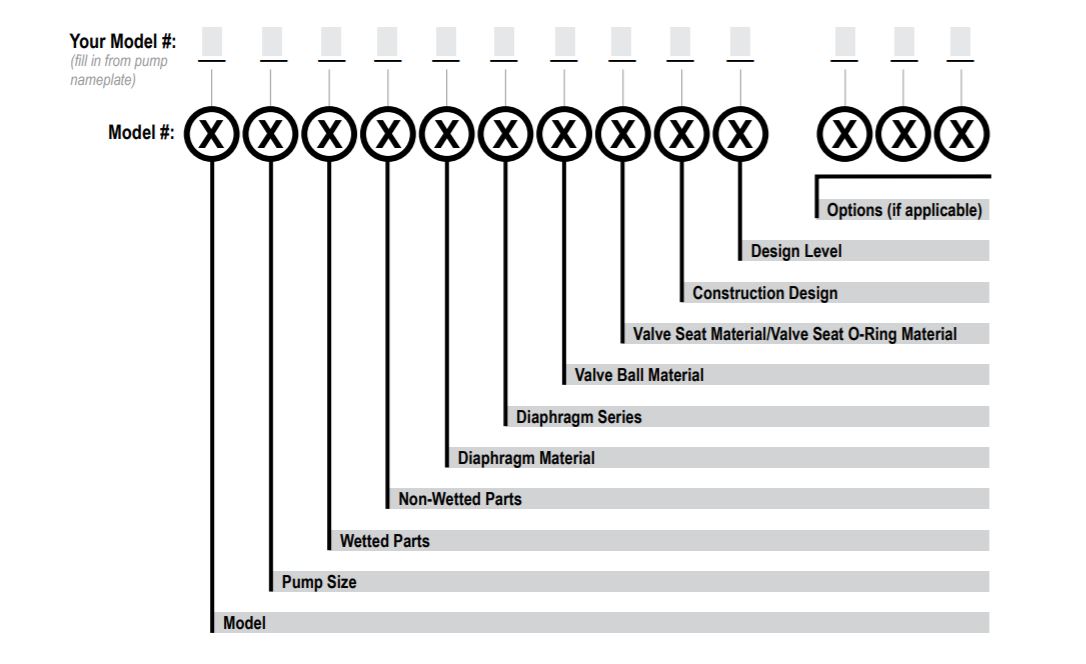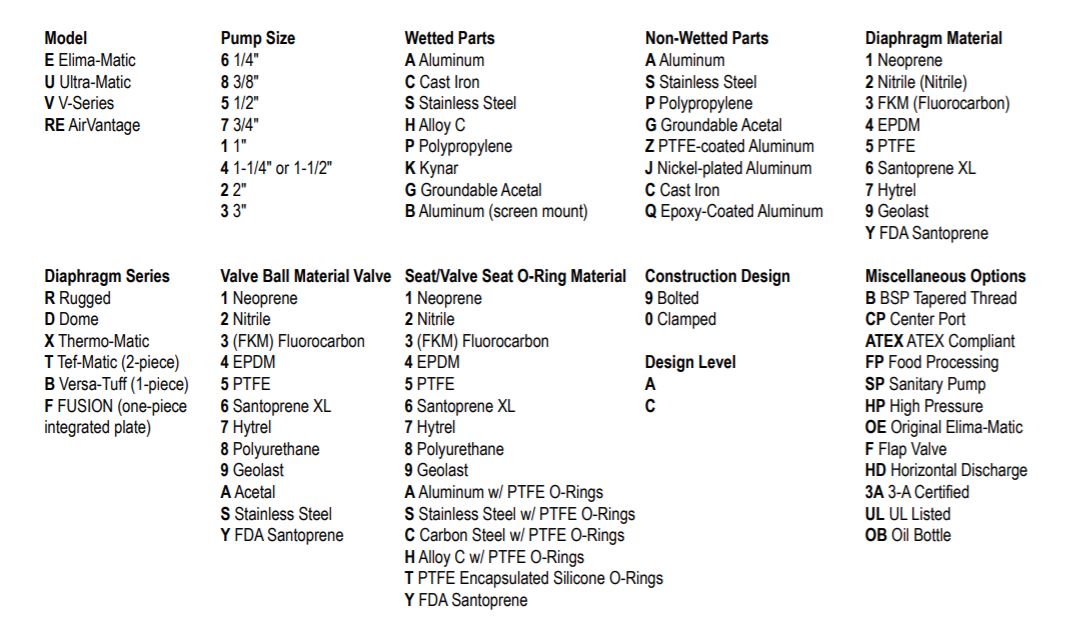 Model
E Elima-Matic
U Ultra-Matic
V V-Series
RE AirVantage
Pump Size
6 1/4"
8 3/8"
5 1/2"
7 3/4"
1 1"
4 1-1/4" or 1-1/2"
2 2"
3 3"



Wetted Parts
A Aluminium
C Cast Iron
S Stainless Steel
H Alloy C
P Polypropylene
K Kynar
G Groundable Acetal
B Aluminium (screen mount)
Non-Wetted Parts
A Aluminium
S Stainless Steel
P Polypropylene
G Groundable Acetal
Z PTFE-coated Aluminium
J Nickel-plated Aluminium
C Cast Iron
Q Epoxy-Coated Aluminium


Diaphragm Material
1 Neoprene
2 Nitrile (Nitrile)
3 FKM (Fluorocarbon)
4 EPDM
5 PTFE
6 Santoprene XL
7 Hytrel
9 Geolast
Y FDA Santoprene
Diaphragm Series
R Rugged
D Dome
X Thermo-Matic
T Tef-Matic (2-piece)
B Versa-Tuff
F FUSION (one-piece integrated plate)
Valve Ball Material Valve
1 Neoprene
2 Nitrile
3 (FKM) Fluorocarbon
4 EPDM
5 PTFE
6 Santoprene XL
7 Hytrel
8 Polyurethane
9 Geolast
A Acetal
S Stainless Steel
Y FDA Santoprene
Seat/Valve Seat O-ring Material
1 Neoprene
2 Nitrile
3 (FKM) Fluorocarbon
4 EPDM
5 PTFE
6 Santoprene XL
7 Hytrel
8 Polyurethane
9 Geolast
A Aluminium w/ PTFE O-Rings
S Stainless Steel w/ PTFE O-Rings
C Carbon Steel w/ PTFE O-Rings
H Alloy C w/ PTFE O-Rings
T PTFE Encapsulated Silicone O-Rings
Y FDA Santoprene
Construction Design
9 Bolted
0 Clamped

Design Level
A
C
Miscellaneous Options
B BSP Tapered Thread
CP Center Port
ATEX ATEX Compliant
FP Food Processing
SP Sanitary Pump
HP High Pressure
OE Original Elima-Matic
F Flap Valve
HD Horizontal Discharge
3A 3-A Certified
UL UL Listed
OB Oil Bottle
Dimension Drawing

Technical Data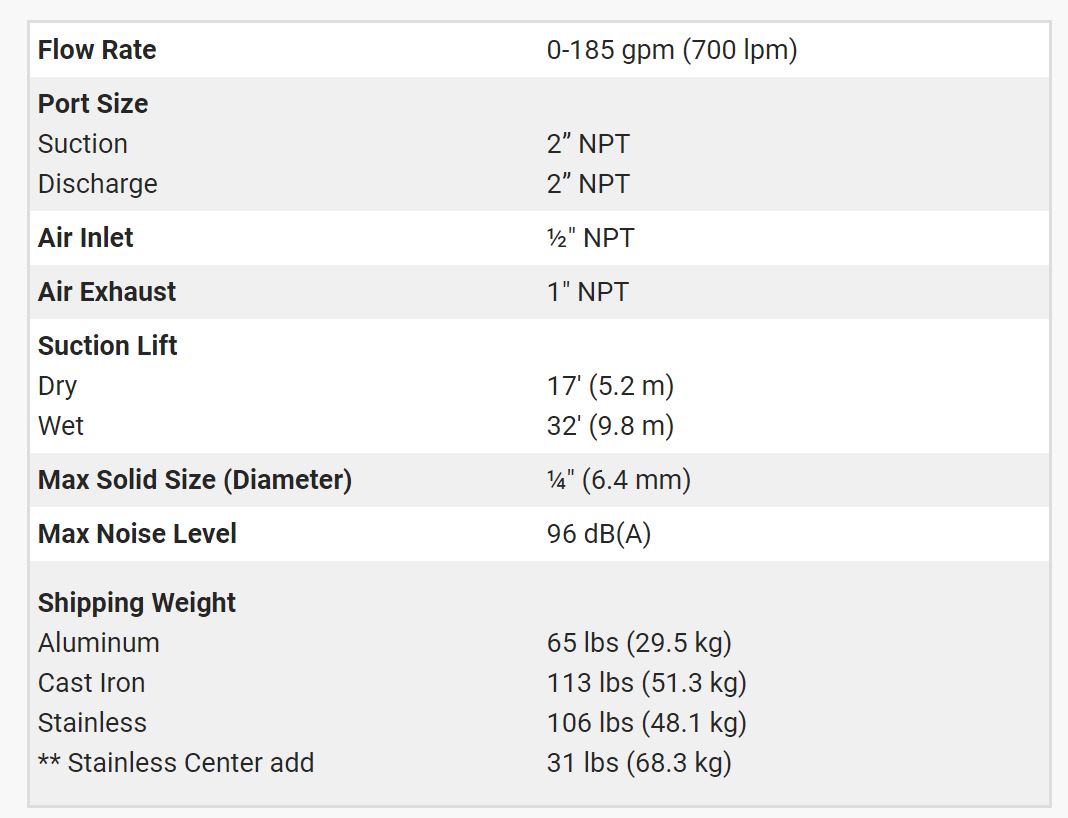 | | |
| --- | --- |
| Flow Rate | 0-185 gpm (700 lpm) |
| Port Size | |
| Suction | 2" NPT |
| Discharge | 2" NPT |
| Air Inlet | 1/2" NPT |
| Air Exhaust | 1" NPT |
| Suction Lift | |
| Dry | 17' (5.2 m) |
| Wet | 32' (9.8 m) |
| Max Solid Size (Diameter) | 1/4" (6.4 mm) |
| Max Noise Level | 96 dB(A) |
| Shipping Weight | |
| Aluminium | 65 lbs (29.5 kg) |
| Cast Iron | 113 lbs (51.3 kg) |
| Stainless | 106 lbs (48.1 kg) |
| ** Stainless Center add | 31 lbs (68.3 kg) |
Performance Curve